Afric Multi-Sectoral Trade Mission to N'Djamena, Chad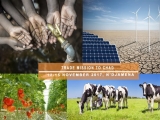 Afric Multi-Sectoral Trade Mission to N'Djamena, Chad
Type: Supported event
Date: 12-11-2017
Location: N'Djamena / Chad
In collaboration with the Chadian Presidency, the Ministry of Trade, ANIE, the Ministry of Economy, the Chamber of Commerce, the Embassy in Brussels & the Consulate in The Netherlands, NAFTC-Africa, SANEC, and AFRIC organizes the 3rd Multi-Sectoral Trade Mission to N'Djamena, Chad.

This mission aims to promote mutually beneficial partnerships between the Dutch and the Chadian public and private sectors, and to connect Dutch (or European) and African companies to their Chadian counterparts. Thus, the program will be tailored to be adapted to the participants' goals.

Chad, a political stable and oil rich country that is historically oriented towards agriculture, livestock breeding and fishing. Even today, 80% of working population is directly affected by the primary sector, essentially by food production. Chad has nearly 40 million hectares of arable land. Less than 10% of them are grown annually. Download the reports here.
Participation Fee:
€2150,- p.p excluding VAT, travel and accommodation.

Including:
Collective local transport;
Matchmaking sessions;
Site visits;
Plenary sessions;
A publication of your company profile in the mission booklet and the finale report;
Networking reception;
Full local assistance from the organization including translation service;
A follow-up after the mission has taken place.
Exhibition Booths:
We also offer exhibition booths for maximum exposure during the mission. Please contact us for more information.
Mission voucher:
Dutch companies can apply for a trade mission voucher to cover up to €1500 of the participation fee. Contact us for more information, we can assist you with the application form.
For additional information click here.
Concept Programme:
12 November 2017 - Arrivals & Briefing
13 November 2017 - Seminar, Individual matchmaking & Reception
14 November 2017 - Matchmaking, Companies & Institutions Visits
15 November 2017 - Individuals follow-up, Reception & The End
For registration and more information, please contact:
Solange Domaye
Phone:+31-3345 32809
Mobile +31-653 481 508
E-mail: sdomaye@afric-eu.com

www.afric-eu.com