African Business Day 2017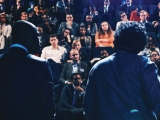 African Business Day 2017
Type: Supported event
Date: 26-05-2017
Location: Rotterdam / The Netherlands
Following the succes of last year's African Business Day, the Association of Students of African Heritage (ASAH) are organising the second edition of the African Business Day. This two days event will be held on the 26th and 27th of May at the Erasmus University in Rotterdam. Friday the 26th of May will be dedicated to workshops; recruitment, career development and informational sessions. Saturday the 27th of May will be devoted to key note speeches held by renowned entrepreneurs operating in Africa.
This year's theme is "Africa Innovates". The conference aims to celebrate and promote awareness of existing innovative solutions that have been deployed in Africa and beyond by African entrepreneurs. It focusses on changing the narrative about Africa from a disadvantaged continent, to a well of opportunities and innovations.
The event is for students and business people who are interested in the potential of Africa. During the day, selected speeches and activities will facilitate the creation and enhancement of relationships between students interested in Africa, business people and speakers with valuable knowledge about Africa.
For more information and registration, please click here.