Brexit, Trump and Elections: The Impact On Your Business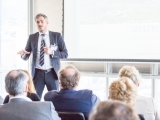 Brexit, Trump and Elections: The Impact On Your Business
Type: Seminar
Date: 23-03-2017
Location: Amsterdam / The Netherlands
On Thursday the 23rd of March 2017, SANEC and the NBCC cordially invite you to our seminar on:
"A new reality: how businesses must adapt to a different world order"
The ripple effect of Brexit, Trump and the Dutch elections

Geopolitical changes create a lot of uncertainty. This seminar aims to provide some clarity as to what we can learn from it and how businesses can best adapt to it.

Keynote speaker:
Mr. Alexander Rinnooy Kan: "National and International lessons learnt on March 15"
Professor in Economics and Business Management at the University of Amsterdam
Member of the Senate on behalf of Democrats 66 (D66)
Former Chairman VNO (now VNO-NCW) and President of the Dutch Social-Economic Council (SER)

Other speakers include:
Mr. Marcel Baartman, Senior Economist at Clingendael:
"The emerging new world order and its economic consequences"
Mr. Gerard Kastelein, Partner at Allen & Overy:
"The impact of Brexit"
Robert van der Jagt, Chairman of KPMG´s EU Tax Centre:
"Dealing with taxes in a changing world"
Venue: Allen & Overy, Apollolaan 15 | 1077 AB | Amsterdam
Date: Thursday March 23rd 2017, 15H00 - 18H00
RSVP:
Members of SANEC who would wish to participate, please register via project@sanec,nl (Ms. Linda Bendsneijder). Please note that the number of seats for this event is limited.
We look forward to seeing you on March 23rd in Amsterdam!
In partnership with: