Livestock and Horticulture Trade Mission to Zimbabwe 4th-9th June 2018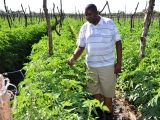 Livestock and Horticulture Trade Mission to Zimbabwe 4th-9th June 2018
Type: Networking event
Date: 04-06-2018
Location: Harare / Zimbabwe
Livestock and Horticulture Trade Mission to Zimbabwe
4th-9th June 2018

From the 4th to the 9th of June 2018, SANEC and NABC will organize a livestock (poultry, dairy, beef and pork) and horticulture trade mission to Zimbabwe, in cooperation with our local partner BancABC Zimbabwe which is part of Atlas Mara. The trade mission will include field visits to a.o. poultry and dairy farms, feed millers, fruit and vegetable producers (greenhouse farms), fruit and vegetable and livestock processing facilities. During the trade mission a Livestock and Horticulture Seminar and Matchmaking session and Network Reception will be organized by BancABC /Atlas Mara. These sessions will give you the opportunity to meet and greet with the Local Zimbabwean Business community and explore new business opportunities. Read more about the opportunities in the poultry, dairy, beef, pork, fish and horticulture sector in Zimbabwe via this link.
Location: Harare, Zimbabwe
Trade Mission participation fee: € 1250,- (excl. VAT) for SANEC members and € 1500,- (excl. VAT) for non-SANEC members
Investors will benefit high quality assets, with discounted value in comparison to regional assets.
In terms of exit mechanisms, and repatriation of returns, the Zimbabwean Government will ensure that laws are harmonised to create a holistic and investor-friendly environment.
The Government will also work out an incentive scheme system that will help mobilise and retain FDI in the country
The existence of established capital markets, in particular the Zimbabwe Stock Exchange will guarantee investors in the country exit mechanisms
Zimbabwe still holds an attractive class of relatively wealthy consumers.
Companies offering lifestyle & consumer goods products could benefit from demand that has been unmet for years, which resulted in South Africa benefiting from Zimbabwe's consumer tourism.
Zimbabwe is open for business. The new dispensation issued by Government at the beginning of the year, marks a new era in the Zimbabwean economy, wherein the Public Procurement and Disposal of Public Assets Act provides investors with an opportunity to acquire public and private assets in order to target foreign investment which will help to capacitate and rebuild Zimbabwe's industries.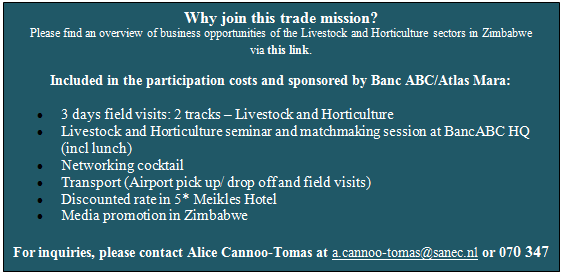 What else will be included in the mission?
The trade mission will still include 2 sector programs, namely livestock and horticulture. The 2 groups will split up during field visits. The horticultural track will visit fruit and vegetable producers (greenhouse farms) and exporters (open field and protected cultivation), fruit and vegetable processing (and packaging) facilities and a visit to the Harare airport Coldstore. SANEC and NABC are working together with ZimTrade, the local horticultural export promotion agency with a wide network of fruit and vegetable growers. The relevant businesses in their network will be invited during the B2B Matchmaking event.