MAITEX 2014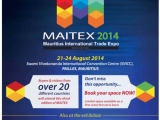 MAITEX 2014
Type: Supported event
Date: 21-08-2014
Location: Pailles / Mauritius
Interested to source from Mauritius? IF yes, participate in the forthcoming MAITEX 2014 Trade Expo.
Enterprise Mauritius (EM) is the apex Trade Promotion Organisation of the Republic of Mauritius. EM is a collaborative partnership between industry and Government to help, within an integrated framework, businesses in Mauritius expand into regional and international markets, and at the same time develop their internal capability to meet the challenges of international competition.
Mauritius has, over the years, meticulously assembled the prerequisites to make the island a business-friendly, profitable and safe location of unmatched service quality, for both traders and investors.
Contact Enterprise Mauritius for a possible sponsored Air Tickets & Accomodation!
For more information, please click here for the official website and registration.