Richards Bay Industrial Development Zone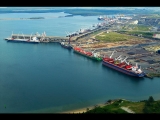 Richards Bay Industrial Development Zone
Type: Seminar
Date: 19-09-2018
Location: The Hague / Nederland
On the 19th of September, SANEC pleasantly welcomes and introduces its members to the Richards Bay Industrial Development Zone (RBIDZ).

The Richards Bay Industrial Development Zone (RBIDZ) is a purpose built and secure industrial estate on the North-Eastern South African coast. The N2 business corridor links the Province's two major ports, Durban and Richards Bay, and connects with Maputo in Mozambique and, ultimately, areas of East Africa. It is linked to an international sea port of Richards Bay, tailored for manufacturing and storage of minerals and products to boost beneficiation, investment, economic growth and, most importantly, the development of skills and employment. The RBIDZ creates international export competitiveness through tax and duty-free incentives, providing world-class infrastructure and competitive input costs focus on sectors as Agro-Processing, ICT, Renewable Energy, Techno-Parks, Transport & Logistics and Manufacture both for small and large size business in Richards Bay, South Africa.

We are pleased to invite you to the " Richards Bay Open for Business Round Table" where the delegation will present the various business opportunities for the Netherlands and connections will be discussed for your business. In addition, exclusive business to business meetings can be requested (note: RBIDZ is time-limited, therefore, first come is first served). Be ready for in-depth insights about doing business in South Africa and personal interactions.
Time: 10H30 - 13H00 Costs: Free of charge for members except for a parking admission fee*
Venue: WTC The Hague, Prins Beatrixlaan 582, 2595 BM The Hague
For more information about SANEC's event please contact
Alice Cannoo-Tomas
at
a.cannoo-tomas@sanec.nl
or
070 347 07 81