Roadshow to South Africa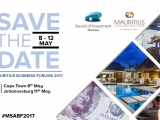 Roadshow to South Africa
Type: Supported event
Date: 08-05-2017
Location: Johannesburg/ Capetown / South Africa
Board of Investment will be conducting a roadshow from the 08 May to 12 May 2017 in Cape Town and Johannesburg
Riche Terre Business & Industrial Park is being comprehensively designed and planned by the Government of Mauritius on 325 arpents of State Land situated at Riche Terre.
Accordingly, the Board of lnvestment (BOI) is inviting Expressions of Interest (EOI) from economic operators intending to implement a project within this Park.
In this regard, we would be grateful if the SANEC could help us in disseminating the Invitation for Expression Interest to its members. The invitation for Expression of Interest document and detailed support information are attached. Potential promoters are requested to submit their project proposals as per the application form downloadable at http://www.investmauritius.com to the BOI by 10 March 2017 at latest.
Proposals can be submitted either electronically to the following email address rt@investmauritius.com or by hard copy clearly marked "EOl/Riche Terre" to the following postal address:
Board of Investment
10th Floor, One Cathedral Square Building
16, Jules Koenig Street - Port Louis (11328)
Republic of Mauritius
Applicants who have already submitted a project proposal prior to this advertisement must resubmit and update their application through this EOI process.
Applicants may also contact the Board of Investment on the following contact points for more details: E:hp@investmauritius.comor call on +230 203 3890.