SANEC Business Bootcamp Southern Africa: Zuid-Holland Edition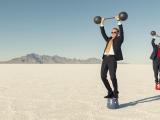 SANEC Business Bootcamp Southern Africa: Zuid-Holland Edition
Type: Networking event
Date: 26-09-2017
Location: Rotterdam / The Netherlands
At SANEC we understand the complexity and the hurdles that any company might come across in its ambition of entering a new realm. SANEC in cooperation with its members are organizing a series of Regional Business Bootcamps for SANEC members and guests that are interested in facilitating international business in Southern Africa.

For this reason, SANEC cordially invites you to the first Business Bootcamp Southern Africa: Zuid-Holland Edition at the vibrant Word Hotel Wings in Rotterdam. SANEC Business Bootcamp will offer a number of specialized business experts, each in their own field, to assist you in improving your existing business in Southern Africa or setting up a new one. Our experts vary from business strategy, starters subsidies for international business, tax advice, marketing services, logistics support to foreign exchange. Join us on the 26th September 2017 and exercise your knowledge on doing business successfully.
Participation Fee:
Free of Charge for members and non-members


Register your participation:
22 September 2017

Upon registration, indicate time and expert you would like to meet on the day.