African Business Day 2018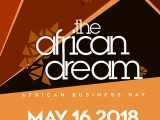 African Business Day 2018
Type: Supported event
Date: 16-05-2018
Location: Rotterdam / The Netherlands
SANEC is pleased to announce its supportive role and position in the Association of African Students of African Heritage's (ASAH) annual 'African Business Day' event. On the 16th of May 2018 The Association of Students of African Heritage (ASAH) will be organizing the African Business Day. The African Business Day is ASAH's annual keynote event and this year will be their fourth edition.
This year's theme will be 'The African Dream', and the speakers will discuss Africa's social, political and economic future. Furthermore, this year's edition will shine a light on upcoming African business initiatives as well as social developments such as the 'Women Empowerment Movement', a theme the all-female committee is quite excited about.
The African Business Day 2018 guest speakers include feminist blogger Minna Salami from MsAfropolitan, CEO of the by Netflix inspired Afrostream Tonjé Bakang, Obinna Ukwuani founder and CEO of the Exposure Robotics Academy (XRA) and the Makers Global Africa, founder of Agrolay Ventures Ada Osakwe who's company is dedicated to improving growing Africa's agriculture and food industries and Taofick Okoya, CEO of the Nigerian doll brand Queens of Africa. The diversity in this year's lineup promises to provide a multitude of interesting perspectives about Africa's future.
The African Business Day will take place on the 16th of May at the Erasmus Centre for Entrepreneurship in Rotterdam. The day will start off with workshops, for which there are limited places available. This year the workshops will be hosted by big multinationals such as Rabobank, Shell, Nile Dutch, Nationale Nederlanden and Ringier, who at least year's event recruited 3 students who are currently working for them in Africa. The workshops will allow participants to put their knowledge into practice and learn more about the company's work in Africa. During the second part of the event the speakers will get the chance to share their views on how they see Africa's future. The presentations will be followed by a panel discussion, which will be led by Keturah King, who currently works for CNN African Voices. In between these sessions the guests will get the chance to network whilst enjoying African entertainment and the African kitchen.
As an African saying goes: ' If you wish to move mountains tomorrow, you must start by lifting stones today'. Coming together is a beginning, keeping together is a progress, working together is a success. The African Business Day will prepare participants for the Africa of the future.
Tickets for the event are available for the 16th of May at http://asah-eur.nl/ .
———————————————————————————————————————
For more information please contact Aincre Evans at Marketting.assistant@sanec.nl