South Africa in the Spotlight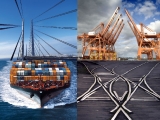 South Africa in the Spotlight
Type: Networking event
Date: 29-11-2012
Location: Noordwijk aan Zee / the Netherlands

MEET SOUTH AFRICAN KEY-PLAYERS IN PORT & INDUSTRIAL ZONES DEVELOPMENT
South African Port & Industrial Zones in the Spotlight
SANEC is pleased to invite you to meet the South African delegates on 29 November.
The transport and logistics delegation from South Africa will be visiting the Netherlands to engage with Dutch companies about the latest developments and opportunities in transport & logisics, energy and water.
Gauteng Province in the Spotlight
SANEC would like to invite you to strategically discuss how business obstacles for Dutch business in South Africa can be reduced.
The Member of Gauteng's Executive Council (MEC) who is responsible for Economic Development, the Honourable Mr. Kolisile, and the Gauteng Growth and Development Agency will be heading a Multi-Sectoral Trade and Investment Mission to the Netherlands.
The programme will focus on unlocking opportunities in Dutch Top Sectors, supporting and developing trade and business opportunities for Dutch and South African based companies in Gauteng.
DETAILS
Date
29 November 2012
Venue
Grand Hotel Huis ter Duin
Koningin Astrid Boulevard 5
2202 BK Noordwijk aan Zee
Programme
09:30 - 12:30 hrs: Individual matchmaking
13:30 - 16:30 hrs: South Africa in the Spotlight seminar
16:30 - 17:30 hrs: Networking drinks
18:30 - 23:30 hrs: SANEC Gala Dinner
"20 Years Economic Ties the
Netherlands & South(ern) Africa"
Please mention if you would like to attend the morning, afternoon and/or evening.
For more information, please contact:
Caroline de Bruin (Gauteng Mission):
by phone: +31 (0)70 347 07 81
Mark Reyneker (Transport Mission):
by phone: +31 (0)70 347 07 81