17 February 2017
Film Festival by the South African Embassy in The hague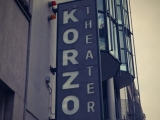 SANEC is pleased to announce that the South African Embassy in The Hague will be hosting a Film Festival on the 25th of February 2017. The festival will be held at the Korzo Theatre in The Hague. There are tickets available for three shows with a maximum of 80 attendees per show:
Agenda:
Ayanda: 12:00 – 13:45 (Max. 80 attendees)
Letters to Zohra : 14:15-15:15 (Max. 80 attendees)
Leaving Mandela Park : 15:30-16:40 (Max. 80 attendees)
Should you be interested in atthending one or all three of the public screenings on the 25th of February 2017, please send an email to Mr. Lindsay Louis or Ms. Roxanne Martinho at one of the following emails:
info.thehague@dirco.gov.za
martinhor@dirco.gov.za
louisl@dirco.gov.za
Venue:
Korzo Theatre
Prinsestraat 42
2513 CE Den Haag
The Netherlands
Please note that the Film Festival overlaps with the 'South Africans in the Netherlands' event on the same day.