12th SANEC The Hague Trade & Investment Gala Dinner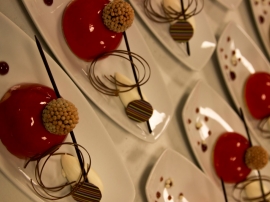 Date: 28-11-2013
Location: Noordwijk / the Netherlands
Last Thursday, 28 November, it was once again time for the 12th SANEC Trade & Investment Gala Dinner. This year's theme was 'Acceleration through Education' and did not only focus on vocational trainings for handicapped youngsters in South Africa, made possible by the Sharing Succes Foundation, but also on socio-economic initiatives. Guest speakers on these topics included Ezra Ndwandwe, presenter of South Africa's biggest reality TV-series on entrepreneurship: The Big Break Legacy, and Sanele Makinane, winner of The Big Break Legacy 2013.
This memorable evening also marked the finale of the first edition of 'The Best Idea of South Africa' competition. Our five finalists presented their ideas and the winner was chosen by the guests and the jury. In the end it was Zizi Fernandez, with her idea 'Mama Taxi' who took home the title of Best Idea of South Africa 2013. As part of the winners prize she will not only receive consultancy hours by Berenschot and SANEC, but also a profile in AfricaTV Magazine as well as a 10 day trip to South Africa, made possible by Etihad Airways, Zandspruit Bush and Aero Estate, Villa Schreiner and Hilton Sandton.
During the evening a variety of South African wines were served: Longridge Rouge and Longridge Blanc by Longridge Wines, Pinotage Blanc 2013 by Aaldering wines and the Slanghoek Kaapse Vonkel and Zonneweelde Avondtroodt 2010 by Three Wines Benelux.
During the evening music was provided by Award Winning South African singer Tutu Poane and the evening was closed by Edsilia Rombley. Pictures can be found following this link (don't forget to like us!) or on our website. The following video was made by RTL Business Channel.