28 February 2017
M. Eelderink, founder of 7Senses, nominated as 'Uitdager/Aanpakker' at VPRO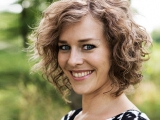 SANEC would like to conratulate Ms. Madelon Eelderink, founder of our new member 7Senses, for being nominated as 'Uitdager/Aanpakker' at the Dutch television programme VPRO/Tegenlicht. The VPRO looks for inspiring people who bring change in an innovative way. With her specialisation in Participatory Action Research (PAR), 7Senses strives towards global development by improving the quality of 'community-up' to boost innovation. Worldwide, Ms. Eelderink conducts PAR projects on various issues, from poverty issues to the protection of endangered sharks.
If you like 7Senses, or if you work together with 7Senses, please vote for her here.
For more information on 7Senses, please have a look at their
website
.