First South African SADC - Ambassadors lunch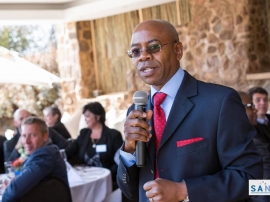 Date: 29-07-2014
Location: Pretoria / South Africa
SADC/ EU AMBASSADORS Lunch at The Blades in Pretoria

On Tuesday, the 29th of July, the Southern African Netherlands Chamber of Commerce (SANEC) and Trade & Investment KwaZulu-Natal (TIKZN) organized the first SADC/ EU Ambassadors Luncheon at The Blades in Pretoria. Diplomatic Delegations of the EU, The Netherlands, Angola, Botswana, DRC, Malawi, Namibia, Zambia and Zimbabwe made use of the opportunity to engage with business and vice versa.
The day started with dynamic, speed dating and networking sessions between the Diplomatic Delegates and representatives from business and government. These 15 minutes sessions allowed for businesses to directly discuss trade and investment opportunities with the African, European Community Ambassadors and High Commissioners.
The opening of the seminar on "Trade and Investment in SADC" was done by the EU Ambassador to South Africa, H.E. Roeland van de Geer. He drew comparisons between South Africa and Europe and underlined the importance of creating a dialogue on trade facilitation. As part of the seminar, Prof. Wilma Viviers enlightened all of us with her Decision Support Model Approach to exports.
A stimulating panel discussion between H.E. Mr. Roeland van de Geer (EU Ambassador to South Africa), Mr. Bonang Mohale (Chairman of SANEC), Mr. Lester Bouah (Executive Manager TIKZN), Mr. Rian Coetzee (Head of Agro-Industries Business Unit IDC) hosted by Mr. Godfrey Mutizwa (CNBC Africa) addressed ways in which Europe can support Africa in trading across the continent. A delicious four course lunch set on the banks of the Roodeplaat Dam combined with a warm winter sun, created a special ambiance in which the guests could mix, mingle and interact in a more informal setting.
We'd like to give special thanks to our sponsors and partners, Trade & Investment KwaZulu-Natal, Industrial Development Corporation, Embassy Direct, Bayede! Wines, the Blades and CNBC Africa.