2nd SANEC Knowledge Tour 2015: "How to take care of your staff placed in Southern Africa."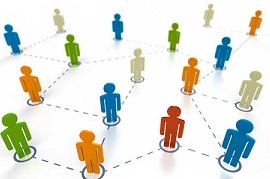 Date: 09-04-2015
Location: The Hague / Netherlands
On April 9th, SANEC organized an interesting afternoon about secondment of staff in Southern Africa together with AWVN, WerkinAfrika, IBN Business & Immigration Solutions and Vopak. All participants were invited by our host AWVN in the Malietoren in The Hague.
Marcel van de Kar, Managing Director of Vopak South Africa from 2009 to 2013 shared his experiences of being seconded to Durban, South Africa. He spoke on what impact secondment gives to ones private life and the existing complexities you have to deal with when you decide to go live and work in another country. Throughout the afternoon Marcel's experiences proved to be a great example to other experts who also shared and spoke about their knowledge regarding the topic.
Ruud Blaakman of the general employers' association AWVN gave clear insights on how to take care of staff placed or posted in the SADC region. He mentioned the 'no gain no loss principle' and explained the approach of the disc of five for international labor mobility; migrations issues, social security, labor law and labor conditions, tax and additional pension plan.
Inez Willeboordse Managing Director and founder of WerkinAfrika, took us on her past and present inspirational journey through the African continent. She explained how she started her recruitment business/ service which is focused on recruiting people to Africa from overseas. WerkinAfrika mainly focuses on the SME's that have no internal human resources department in place. Her emphasis is to put the right people in the best possible career positions and for these people to work in one of the various prosperous sectors on the African continent.
Hans Kroll of IBN Business & Immigration Solutions, is located in Johannesburg . Hans took us through his presentation with the use of audio clips which he had previously recorded. Hans was present and attended the session live via a Skype. IBN caters to the needs of both corporate and individual clients in the field of immigration into and within Southern African Countries. The presentation gave thorough information on the different visas one might need when going to South Africa, Namibia or Botswana for work or doing business.
SANEC manager Mark Reyneker led an interactive discussion, that later concluded the afternoon. It was further stated that there is a huge need for more companies to essentially make use of the (secondment) tools that organizations like AWVN, WerkinAfrika and IBN have to offer.
The host AWVN invited all participants for drinks and bitterballen, enabling the participants to connect and speak to the experts in person.
To get a glimpse of the event, click here and view the pictures on the SANEC Facebook page!
If you want to take a look at the presentations that were given that day, email [email protected] and copies of the presentations will be send to you.