Agri & Food Mission from the Democratic Republic of Congo to the Netherlands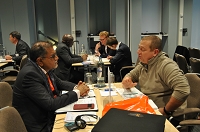 Date: 23-11-2015
Location: The Hague / The Netherlands
The Agro-food sector Delegation from the Democratic Republic of Congo visited the Netherlands from the 22nd of November until the 27th of November 2015. Commissioned by the Netherlands Enterprise Agency, SANEC hosted the program for the seminar and matchmaking session of the mission in cooperation with NCH.
The Delegation had the opportunity to visit the agro-industrial parks in the Netherlands, meet experts on agricultural innovation and technology, and through an organized roundtable got to connect with the Dutch Business Community working in their respective sector to formalize partnerships, establish new contacts and to create sustainable investment opportunities.
One of the various events during the mission, was the Seminar & Matchmaking session at the WTC in the Hague. During the seminar, several respected organizations presented their knowledge of doing business in the Agri & Food sector in the DRC. After which 13 entrepreneurs, a high-level decision maker from the public sector and the economic-trade officer from the Netherlands Embassy in Kinshasa took part in the Matchmaking session. Please find the links to the presentations of the seminar below:
· RVO
We would like to thank NCH (Netherlands Trade Council) for the opportunity to combine forces on this trade Mission, and to also acknowledge The Netherlands Enterprise Agency (RVO) and Congo Invest Consulting (CIC) for all their support and input during the Trade Mission. SANEC will continue to further develop the relationship with the Democratic Republic of Congo in 2016.