Seminar Agribusiness Opportunities in Zimbabe 2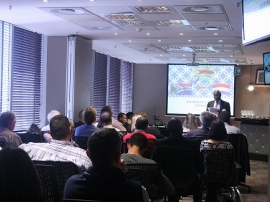 Date: 08-10-2015
Location: Cape Town / South Africa
On the 8th of October 2015, SANEC and NABC hosted a seminar on agribusiness opportunities in Zimbabwe. This seminar was similar to the seminar in the Netherlands on the 17th of September 2015. Several entrepreneurs, organisations and institutions visited the seminar at the WESGRO offices in Cape Town, South Africa, to connect, exchange interests, and network.
Both seminars have been well attended by more than 40 participants each: a variety of agro business entrepreneurs, agro private sector stakeholders, delegations from the Netherlands – Zimbabwe – South Africa, Embassies or Consulates, ministry officials and financial & legal institutions from the three countries involved. During these events, different business opportunities were presented and discussed, with practical and legal advice on how to start doing business in Zimbabwe and how to identify partners and clients. A general overview of the topics presented and discussed during the seminars:
· Reasons for Dutch Agri-Business to expand;
· Unique Selling Points of Zimbabwe;
· What Dutch Agri-Business in the Netherlands and South Africa can bring to the cable;
· The Agricultural Value Chain Approach;
· Reasons indicated to partner with Dutch Agri-Business;
· Illustrative opportunities for Dutch Agri-Business in Zimbabwe;
· Dutch and Zimbabwean financial and funding instruments available to start agro-business; partnerships and investment opportunities;
· Experience stories from Zimbabwe agri-business entrepreneurs;
· Legal considerations for doing business in Zimbabwe;
· Facts on the Western Cape business with Zimbabwe.
In order to ensure interaction with the audience, and to better target the presentations, the participants from the seminar in Cape Town were asked to send in their specific information requests beforehand. The questions received were shared with the presenters – in particular Dennis Beunk - so they could prepare the answers to these questions as well as possible. Both events were concluded with a networking reception where participants exchanged their views and interest about doing business in Zimbabwe.
It is a clear indication that the Netherlands and South Africa can be the partners for Zimbabwe agri-businesses with its long standing tradition and experience in Agriculture. There are many opportunities to further accelerate the formation of agri-business partnerships increasing trade and enhancing the rural development, food security resulting in improvement of the livelihoods of the Zimbabwe agribusiness communities.
SANEC and NABC would like to thank the Dutch government, and the presenters of this day, Dennis Beunk from Brightface Enterprises, speaking about legal considerations for doing business in Zimbabwe; Niel Joubert from Trade Law Chamber, speaking about Western Cape business with Zimbabwe, and especially H.E Consul General of the Republic of Zimbabwe in Cape Town, Mr. B. Mugobogobo; Ms. Tinotenda Pasi, Economic and Commercial Advisor at Embassy of the kingdom of the Netherlands in Harare.
For the AGRIBUSINESS IN ZIMBABWE OPPORTUNITIES FOR ECONOMIC COOPERATION report from Ministry of Foreign Affairs, please click here.