B-BBEE Workshop @Panalpina World Transport BV, Schiphol, The Netherlands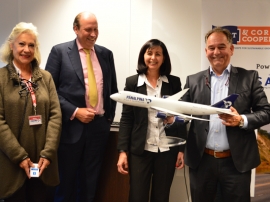 Date: 31-10-2016
Location: Schiphol / The Netherlands
SANEC and Panalpina World Transport The Netherlands hosted the second Broad Based Black Economic Empowerment (B-BBEE) workshop on the 31st of October 2016 in Schiphol, The Netherlands. The workshop theme should give insights into the current trend of the amended B-BBEE act. Maria Du Preez, Business Development Director at Bidvest Panalpina, elaborated on the post rating implications of this new act, while interactive question-answering the participants. The act is important for all those who are/ planning to do business in South Africa as it redresses the inequality.
Discrimination against the majority of the citizens extended across education, workplace, and the economy. In order to abolish workplace discrimination and to offer neglected citizens a better chance in the future, the B-BBEE act was introduced. This act has been amended over the years due to several reasons, which can be also found in the presentation. For more information why the act was implemented and how the system works, this can be found in the presentation given by Maria Du Preez.
The photographic impression of the workshop can be found on our Facebook page.