Mozambique en Angola; groeimarkten in Afrika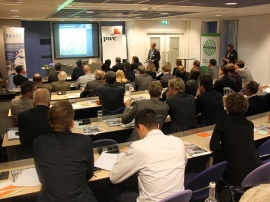 Date: 12-12-2014
Location: Rotterdam / the Netherlands
Vrijdag 12 December 2014, Bijeenkomst succesvol Zakendoen in Angola en Mozambique


De drukbezochte en succesvolle bijeenkomst over zakendoen in Angola en Mozambique, georganiseerd door SANEC, Atlantico Business Development en Fenedex werd gehost door PwC te Rotterdam. De bijeenkomst leidde tot duidelijke inhoudelijke inzichten over de zakencultuur in Portugeestalig Zuidelijk Afrika, in het lokale belastingstelsel en in de ervaringen van een aantal Nederlandse bedrijven die al succesvol ondernemen in Angola of Mozambique. De bijeenkomst voorzag in de behoefte van veel Nederlandse bedrijven in realistische en concrete marktinformatie over beide landen.
Arnout Nuijt, Managing Director van Atlantico Business Development, presenteerde over de achtergronden van de zakencultuur in Angola en Mozambique, het ontstaan van de huidige zakenelite, kansen en belemmeringen voor de BV Nederland, een vooruitblik naar de nabije toekomst, de relatie van Nederland met beide landen en met tips hoe er te opereren.
Jelle Keijmel, partner van PWC, bracht het gezelschap hierna volledig op de hoogte van de belastingstelsels in Angola en Mozambique en over hoe daar het beste mee om te gaan. Het belastingklimaat in Afrika en diverse andere vergelijkingen passeerden de revue. Keijmel's betoog gaf aan dat de op het eerste gezicht ingewikkelde belasting regimes van beide landen, wel degelijk "doable" zijn.
De presentatie van Erik van Dam van Cornelder de Mozambique schetste een treffend beeld van hun bedrijf dat sinds 1998 gevestigd is in Beira, Mozambique en dat weet hoe daar "de hazen lopen". Bob Kok van Avit, ICT specialist, dat al enkele jaren actief is in Luanda, Angola, deed dit ook. Tijdens de levendige paneldiscussie onder leiding van Stefan Stolk (zelf exporteur op Afrika), waar alle vier de heren aan deelnamen, ontstonden door interactie met de zaal diverse nieuwe gezichtspunten.
SANEC, Atlantico Business Development en Fenedex kijken als organisatoren met veel plezier terug op de bijeenkomst. Mede op verzoek van een aantal deelnemers zal er een serie vervolgactiviteiten worden opgezet. De bijeenkomst heeft aanzet gezet tot een export missie naar Angola of Mozambique in 2015.
Presentation Atlantico Business Development
Presentation PwC
Presentation Cornelder Holding
Factsheets PWC
You are welcome to visit our Facebook page to view the photos of the day. Don't forget to like!