Breakfast Session on the 'Framework for Implementation on the Revised B-BBEE Codes of Good Practice'.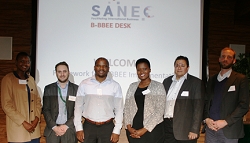 Date: 26-06-2015
Location: Sandton / South Africa
On Friday, 26 June 2015, SANEC hosted its first B-BBEE Seminar. Guests were privy to information on B-BBEE Implementation for the maximization of company resources, from a panel of the finest experts sought out by SANEC.
B-BBEE SERVICES to companies in South Africa and the Netherlands include:
• Advisory (two-hour free consultation with expert)
• Free seminars with policy and implementation experts
• Implementation Solutions
• Priority Elements - Management Control - Socio-Economic Development
• Rating and Certification
• Monitoring and Evaluation
• Consolidated Desk Report and Impact Assessment (submitted by the Netherlands Embassy to the DTI)
• Advocacy and Lobbying
SANEC GOLD MEMBERS RECEIVE 10% ON ALL SERVICES INCLUDING:
• 2 hour free consultation
• 20% off the implementation and measurement tool customisation costs
• Free diagnostic (1 day) of the existing B-BBEE programmes across the scorecard
• Much much more!

JOIN THE SANEC B-BBEE DESK TODAY!
Tel: +27 (0) 11 568 1234
Email: [email protected]
Web: sanecbeedesk.co.za
Presentations by some of the experts can be downloaded via the links below:
SANEC B-BBEE Seminar Inforcomm