Business Networking Reception with a South African Twist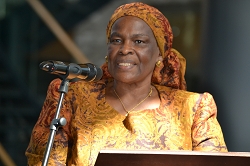 Date: 15-06-2015
Location: The Hague / Netherlands
This year's first Members in "Business Networking Reception with a South African Twist," took place in our very own World Trade Center in The Hague on the 15th of June 2015. The event was hosted in cooperation with the International Business Club of the WTC.


The reception was accompanied by a wonderful performance from Her Majesty, The Queen Mother Semane Molotlegi of the Royal Bafokeng Nation together with a children's choir. BBQ Job, was present and they prepared the well known "Boerewors" on a typical South African Braai stand. Additionally, the famous South African biltong was served as were some distinct Dutch snacks. Aaldering Vineyards & Wines provided an outstanding selection of their white and red South African wines for this special occasion, castle beers were also present. For those who preferred a non-alcoholic beverage, Bos Ice Tea offered them the perfect alternative, providing the guests with various flavors to choose from.
The reception offered the guests both networking and business opportunities. The atmosphere was positive and SANEC enjoyed witnessing new connections being made and old connections being revived during the reception. It was another success and we would like to thank all of those who were present and made it a spectacular evening.
We hope to see you again at our next event!
The photos of the event are on our SANEC Facebook page and can be viewed via the following link