Department of Trade and Industry and SANACO visit the Netherlands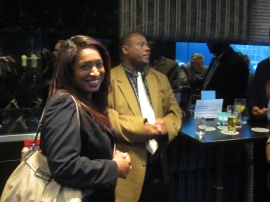 Date: 05-02-2013
Location: The Hague / The Netherlands
A delegation of eighteen South African representatives including the Department of Trade and Industry and the South African National Apex Cooperative (SANACO) visited the Netherlands from 3 to 6 February 2013.
The delegation, representing several actors and parties, had a specific focus on agriculture and horticulture. The delegation interacted with a range of stakeholders regarding the establishment of secondary marketing co-operatives and export villages to support and improve the economic viability of South African companies as well as enhance their export readiness and access to foreign markets.
Site visits included: Fruit Terminal Rotterdam, Coforta, Flora Holland and Coolfresh. Meetings were organized with FENEDEX, Rabobank Utrecht, IMPEC, NCR and with the Dutch Deputy Director- General of Agriculture and his delegation at the Ministry of Economic Affairs in The Hague.
SANEC facilitated an enjoyable Meet & Greet Cocktail at the WTC The Hague allowing the delegation to meet SANEC's Board Members and additional stakeholders.
For more information:
Mr. Herman van der Kroef
South African Embassy (The Hague)
Tel: +31 392 4501