Direct results from the Horticulture trade mission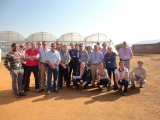 Date: 15-04-2012
Location: Johannesburg, Cape Town / South Africa
A delegation of seventeen agro companies visited South Africa from 15 - 21 April 2012 with the goal to explore the market, to source future projects and to broaden their business network. This trade mission was facilitated especially for entrepreneurs from the horticulture sector and yielded direct results. SANEC was co-facilitator of the mission and responsible for matchmaking sessions in Gauteng and the Western Cape.
The South African horticulture market is growing. The past years, the population has been increasing and because of that the demand for fruit and vegetables is increasing as well. "Furthermore, there is a need for innovative developments to save costs of energy and water", says Paulien Dirkzwager, manager International Business of the Chamber of Commerce The Hague. "This offers opportunities for the Dutch horticulture sector, for example through exporting the technologies for greenhouses and greenhouse facilities".

One of the direct results of this trade mission was a deal for Van der Knaap Groep. "We have sealed two great orders to deliver coconut substrates and plant plugs to South African growers", announces Andre Braam. "Our company has been active in Kenya and Ethiopia for some years and we suspected that the South African market had great potential as well. This trade mission offered us the opportunity to research this and to directly attract new customers. The two sealed orders and good contacts that have been made, made this trade mission a big success for Van der Knaap Groep!"

The company Svensson booked good results as well. Maarten Oostenbrink: "We have sealed a deal to supply climate cloths to a company that wants to save energy in their greenhouses".

The results are the outcome of an intense program with site visits to South African horticulture companies and trade fairs. Furthermore, the program contained matchmaking appointments with local and regional governments and individual conversation with South African entrepreneurs.