Dutch Wine Producers Dinner at Wedgeview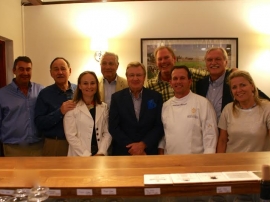 Date: 03-11-2014
Location: Stellenbosch / SA
Dutch Wine Producers Dinner at Wedgeview
The first edition of the Dutch Wine Producers Dinner (DWPD) was held at the Wedgeview Country House & Spa in Stellenbosch South Africa. SANEC representatives Feico Mulder and Paul van de Brink from the SANEC Cape Town office were present.
The event was attended by several Dutch winemakers, all SANEC members, amongst which: Alex van Heeren, Grande Provence (SANEC Member) Emile den Dulk, De Toren Fons Aaldering, Aaldering Wines (SANEC Member) Lars Verburg, Luddite Wines Rob van Weelde, Zonneweelde Wines (SANEC Member) Shipping magnate, winemaker and SANEC Board member Rob van Weelde (Zonneweelde Wines) was the initiator of this event and is the owner of this boutique hotel, which has recently undergone expansion.
The reason for this dinner was the visit of Chef de Cuisine Michel Riswijk and the owner and SANEC member Raymond Strikker from the Dutch country house hotel and restaurant the Bloemenbeek in De Lutte. The Dutch Consul General Bonnie Hornbach, also present was full of praise: "the best thing I've eaten in a long time." Fons Aaldering indicated that he had his first three containers of wine shipped to China: "Well at the right price, because I stick to my guns, even for China." SANEC member, Emile den Dulk, revealed that the name of his wine had to do with the use of the force of gravity in making the wine: "Pumped wine loses quality."
Everyone enjoyed the sublime food combined with extravagant wines. SANEC was pleased to see the synergy between the winemakers from the Western Cape. Undoubtedly this event will find continuation in the future.
(pictured left to right: Dave Baker, Emile den Dulk, Consul Bonnie Hornbach, Alex van Heeren, Fons Aaldering, Niels Verburg (Luddite Wines), Michel van Riswijk, Rob Opulence and Anouk Bakker)