Economic Mission to South Africa headed by Prime Minister Rutte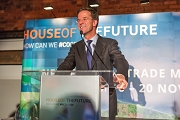 Date: 16-11-2015
Location: Johannesburg, Cape Town / South Africa
Dutch prime-minister Mark Rutte visited South Africa on Tuesday 17 November for a flying visit. Rutte's visit marked the first by a Dutch prime minister in almost two decades. Mark Rutte was accompanied by newly appointed Minister of Agriculture Mr Martijn van Dam and Vice Minister for Mobility and Transport Mr Mark Frequin.
A trade mission involving 80 different companies accompanied the officials, the largest Dutch trade delegation ever to go to South Africa. The Netherlands and South Africa have robust bilateral relations which in 2014 saw trade between the two countries valued at R48,34 billion. The Netherlands is South Africa's second biggest export market for agricultural products worldwide, its third biggest trading partner in the European Union and its eighth biggest trading partner in the world.
The trip focused on a range of sectors including transport and logistics, water, agrifood, healthcare and energy – areas in which Dutch companies see opportunity in South Africa.
Rutte also visited House of the Future in Johannesburg, aimed at facilitating and showcasing Dutch-South African partnerships.
Commenting on the Promotion and Protection of Investment Bill, Rutte said it was of crucial importance to reach a new agreement under the Bill and that this was best done through the European Union (EU). The Bill will replace bilateral trade agreements between South Africa and European nations and has been criticised by the EU Chamber of Commerce and Industry, which says it will lead to disinvestment out of South Africa due to inadequate protection for foreign investors. Rutte said the Netherlands is also currently reassessing its investment protection policy.
As the Southern African Netherlands Chamber of Commerce (SANEC), we hosted co-developing programmes for the Agro-Food and Transport & Logistics sector at House of the Future. For both sectors we organised matchmaking sessions at Garden of the Future. At the same time SANEC was responsible for the Round Table 'Supply Chain Development', the 'SANEC Roadmap of Doing Business in South Africa' session and various other round tables, seminars and field visits.
We are also very proud to have signed three new Memorandums of Understanding during the Mission, with the following companies.
Founders Carbon Network (fCN) - SANEC, to strengthen SANEC's business services in both the Netherlands and South Africa.
Netherlands Agro, Food & Technology Centre (NAFTC) - SANEC co-signed by RSA-NL Horti Platform and Flora Holland to start with optimizing and professionalizing the Southern African food sector, witnessed by the minister of agriculture Martijn van Dam.
Manufacturing Accelerator Programme (MAP) witnessed by the SA Capital Equipment Exporters Association to increase competiveness in the SA market and to prepare the SA companies better for export.