Emotive Branding, the fresh approach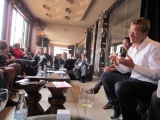 Date: 28-08-2012
Location: Gauteng / South Africa
How to reach your target audience? Emotive Branding is a fresh approach. SANEC and branding firm the brandstation and its Dutch-based partner BR-ND facilitated a round table event about emotive branding.
The brandstation introduced her 23plusone methodology, which was developed recently after years of scientific research.
The interactive marketing event brought awareness on people's drives in life and how to reach clients through triggering their drives. Using the same principle in branding and advertising has proven to increase sales.
The brandstation is a recently launched South African based branding firm that will be using the 23plusone methodology in her projects. On 20 August the same workshop took place in Cape Town for the local based SANEC members.