Fascinating view @ SMIT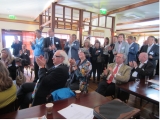 Date: 20-09-2012
Location: Rotterdam / the Netherlands
SMIT headquarters in Rotterdam provided a stunning backdrop for the third Member s in Business Cocktail. Whilst enjoying the fascinating view over one of the biggest ports of the world, SANEC members and other invitees were inspired by a nautical presentation and used the opportunity to catch up with fellow entrepreneurs.
Abel Dutilh, Advisor to Group Management of SMIT International, kicked off with an interesting presentation about the activities of the company.
This was followed by a wonderful speech to thank Ella du Toit, by Mark Agterdenbosch, general manager of SANEC. She dedicated her service to SANEC with great enthusiasm for eleven years . She is a great person and a real South African woman, who speaks from her heart. Her 'thank-you' speech moved the hearts of many of those who were present.
Before the discussions about business opportunities went on, SANEC welcomed two of our new members; Amazone Duurzaam and CSR Academy.
SANEC would like to thank SMIT International for its contribution to this inspiring networking event.