FLASHBACK: Tanzania Investment Forum 15 September 2014 in The Hague, Netherlands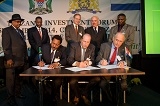 Date: 15-09-2014
Location: The Hague / The Netherlands
Tanzania Investment Forum 15 September 2014 in The Hague, Netherlands

15 September 2014, the first Tanzania Investment Forum took place in the Crown Plaza Promenade Hotel in The Hague, the Netherlands. The Forum was organized by the Embassy of the United Republic of Tanzania and SANEC. The Ambassador H.E. Wilson Mutagaywa Masilingi of the United Republic of Tanzania in the Kingdom of the Netherlands, and H.E. Jaap Frederiks Ambassador of the Kingdom of the Netherlands to the United Republic of Tanzania opened the Forum.
Our guest of honor and key-note speaker, Minister of Livestock and Fishery, Dr. Titus Mlengeya Dismans Kamani presented on Investment Opportunities in the Livestock sector. addressing the SANEC participants and the 50 Tanzanian delegates Promotional Tanzanian documentaries highlighted Business and Tourism opportunities. This, combined with short and insightful presentations on investment and projects in the various sectors, showed the incredible diversity of Tanzania. Directors and trade representatives explained how to do business in East Africa. Success stories of current Dutch companies operating in the country were a great practical contribution to the Forum. The event was the ultimate opportunity to meet, greet, interact and engage with high-level government officials and major decision makers from all kinds of sectors in Tanzania.
The Memorandum of Understanding signed by Mr.Francis Lukwaro (Board member of the Tanzanian Chamber of Commerce) and Mr. Frans Engering (Chairman of SANEC) to highlight, promote and develop economic relations between the Netherlands and The United Republic of Tanzania. The Business Promotion Platform provides a setting where business opportunities in Tanzania can be presented to the Dutch public and private sector. To further strengthen this agreement, the president of Tanzania sent a personal video invitation to businesses to invest in Tanzania.
We would like to thank all the participants for their attendance and contribution. A special word of gratitude goes out to the Tanzanian Delegation and Minister who flew in for this notable occasion, and to Mr. Frans Engering. Without our stakeholders, the Ministry of Foreign Affairs, SHELL and Dutch speakers from Rabobank International and RijkZwaan, this Forum could never have been possible.
A special token of appreciation goes to H.E. W.M. Masilingi, Ambassador of the Republic of Tanzania to the Netherlands, for the successful launch of the Investment Forum. SANEC aims to grow this strong and professional business relationship, to link and increase Tanzanian and Dutch trade, and to continue to offer support on all kinds of ventures and collaborations.
You are welcome to visit our Facebook page to view the photos of the day. Don't forget to like!
You can find the program and presentations in the links below: