Food Security Trade Mission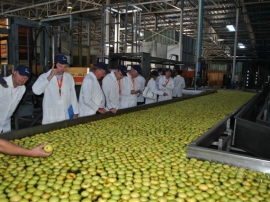 Date: 12-11-2012
Location: Western Cape - Gauteng / South Africa
A diverse delegation of twelve Dutch companies visited South Africa from 12 – 16 November 2012 with the aim of identifying business opportunities in the food security sector in South Africa. Among the delegates were companies active in irrigation solutions, organic food production, nursery management consultancy and research.


The mission was headed by Mr. Jan Hak, chairperson of the association of Dutch manufacturers of equipment for food processing and packaging and Mr. Ate Oostra, chairperson of the Metropolitan Food security platform and supported by the Agricultural Councillor at the Embassy of the Kingdom of the Netherlands in Pretoria.
The world population is expanding rapidly and food shortages are more and more becoming a reality. Smart and innovative production and processing solutions are needed to keep meeting the growing demand. Especially the access to clean water will become more and more of a challenge in South Africa. Since agriculture is a high water consumption industry, water efficient solutions are needed.
The first two days of the programme took place in the Western Cape where various farms, processing and machinery manufacturing facilities were visited and strategic discussions with management took place.
Tailor-made matchmaking sessions with local and regional governments and individual entrepreneurs have resulted in direct business opportunities according to the delegates.
The last three days of the programme took place in Gauteng. One of the highlights was a seminar on Metropolitan Food security followed by a matchmaking lunch.
On the last day of the Trade Mission the delegation attended the Feeding the world congress, organised by The Economist.

This trade mission is for most delegates only a first exploration since the business opportunities in this sector in South Africa are endless. The Dutch innovative products and expertise seem to match perfectly with the local demands.