France, Belgium and Holland connect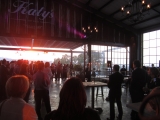 Date: 22-09-2012
Location: Johannesburg / South Africa
Together with the Belgian and French Chambers of Commerce, SANEC facilitated a unique event at Katy's Palace Bar in Kramerville, Johannesburg, on Friday 21 September.
The event was attended by approximately a 120 members of the three chambers, a unique networking opportunity with an increased number of nationalities.
Besides this, Fiona Forde, political analyst and author of the book 'An Inconvenient Youth' about Julius Malema, gave her vision on the upcoming ANC elections and Malema's performance with regard to the unrest around the striking workers of the Marikana mine.
SANEC, the Belgian and the French chambers are looking back to a fruitful event and are looking forward to successful cooperation for the future.