Gauteng trade mission to Holland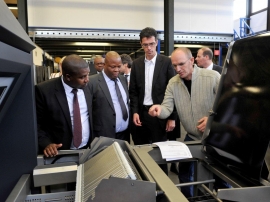 Date: 26-11-2012
Location: Amsterdam / The Netherlands
Between November 27 and 30 SANEC organized a multisectoral trade and investment mission from South Africa to the Netherlands. During these days the delegation, consisting of twenty representatives from the Gauteng Provincial Government (GPG), the Gauteng Growth and Development Agency (GGDA), and Gauteng-based companies, visited various organisations and corporations in the Netherlands, among them Wageningen University,Honey International, ISAH Tilburg, Partners for Innovation, Gassan Diamonds, Heineken, VDL, Brainport Eindhoven, Philips and the Hightech Campus in Eindhoven.
The purpose of facilitating this trade mission is to strengthen the strategic relationship between GPG and SANEC. This relationship is based on the concept of South Africa being the gateway into Africa (in particular Gauteng being the hub of the SADC economy), and the Netherlands being the gateway into Europe. Both governments see value in developing and creating new business and trade opportunities together and therefore investigated possibilities of creating synergy in investment ventures.
The trade mission focused on unlocking opportunities within Dutch Top Sectors and on supporting and developing trade and business opportunities within Dutch and South African companies in Gauteng. The representatives had the chance to discuss and analyse on a strategic level how business obstacles for Dutch business in South Africa could be reduced.