Great deals closed during SANEC mission to the Netherlands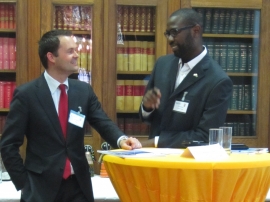 Date: 12-05-2013
Location: The Hague / The Netherlands
SANEC welcomed two South African delegation in the Netherlands on 12 May 2013. After 5 days of site visits, seminars and one-on-one matchmaking sessions, two delighted delegations went home with great deals in their pockets up to 2.5 million Rand.
One of these South African delegations came to the Netherlands to look for importers, distributors and retailers for their products. These 10 business people travelled all across the Netherlands for site visits and personal appointments with prospective business partners.
Two delegates of the Department of Trade and Industry (DTI) made the long journey to the Netherlands as well to attract (new) investments for South Africa. For this goal, the South African Embassy in The Hague and SANEC hosted a morning session, where DTI presented the trade & investment opportunities in the South African market for Dutch investors.
As the two delegations went home with a smile on their faces and some great deals in their pockets, SANEC is looking back on a successful mission. Through the SANEC export facilitation desk, we will assist the organizations with follow ups and their positioning in the Netherlands. For more information about the SANEC export facilitation desk, please contact Sanne van Laar.