Honourable Deputy Minister for Trade and Industry Ms. Elizabeth Thabethe visits Holland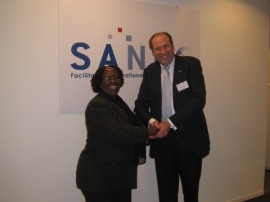 Date: 05-11-2012
Location: The Hague / the Netherlands
Supported by SANEC, the South African Embassy in The Hague hosted a gender business delegation, headed by the Honourable Deputy Minister for Trade and Industry Ms. Elizabeth Thabethe. The female entrepreneurs got the chance to learn about business opportunities in the Netherlands.
"If you can make it here, you can make it anywhere"
The delegation consisted of representatives from sectors as diverse as fashion design, arts &craft, chemicals, wine, tourism and beauty products. During the presentations by SANEC members and stakeholders it soon became clear that the Dutch market is highly competitive, regardless of the sector, especially for companies that are new in the international market.
Yet, Dutch participants and speakers saw a niche for South African products that could attest a sustainable character. To facilitate Dutch market entry, a thorough knowledge of cultural differences and the Dutch way of doing business is of invaluable importance. The subsequent matchmaking session gave the South African participants the possibility to converse with company representatives from their sector and to inform themselves about the challenges their Dutch counterparts encounter in their daily (international) operations and in the whole production and logistics chain.
Port & Corridor Cooperation
After having been present at the South African Embassy in the morning, the Honourable Deputy Minister for Trade and Industry, Ms. Elizabeth Thabethe, joined several meetings with the Dutch government and with Shell International. At the end of the afternoon the Minister met with a number of participants in the Dutch government's investment programme
[email protected]
The objective of this meeting was to discuss the opportunities the port and corridor cooperation between South Africa and the Netherlands can create for South Africa's economic growth. The present Dutch organizations BAM International, Port of Amsterdam, RoyalHaskoning DHV, Ecorys - Shipping and Transport College and SANEC had an open discussion about involvement of Dutch companies in South African ports and corridors.
The fruitful day was concluded with a dinner at the South African Ambassador's Residence, during which the South African delegation could meet the SANEC board members.