Knowledge Tour: International Tax and Regulations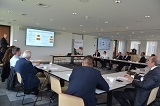 Date: 11-05-2016
Location: Rotterdam / The Netherlands
On the 11th of May 2016, SANEC held its Knowledge Tour for 2016. The event took place at the PwC office in Rotterdam. PwC as member of the SANEC Board hosted the event in their marvelous and delightful building for the afternoon. The Theme of the event was, "Dealing with International Tax laws, regulations and policies when doing business in Southern Africa," therefore for purposes in delivering expert advice on the subject matter we gathered 3 of our members that specialize on this prominent topic to do presentations for the audience. The event was moderated by SANEC General Manager, Mr. Mark Agterdenbosch to give a vote of thanks to PwC for hosting the event and to give a brief introduction about the speakers present. PwC Africa Desk Director, Mr. Albert Elzinga opened the event with a presentation on the world class services that the organization offers to its customers and addressed topics such as income tax laws in South Africa, Interest and royalty withholding tax, bilateral tax law treaties, Investing as a holding company from the Netherlands and Dutch holding structures for south African investors.
The second speaker was Mr. Dieter Prinsloo from Arch Legal Management B.V who gave an in-depth presentation on the BBBEE (Broad-Based Black Economic Empowerment) policy in South Africa, the presentation touched on the definition of the policy, its dynamic, structure, the former act, its shift over time and its importance for organizations to do business in various business sectors in South Africa. Important to note that during his presentations, interesting and insightful discussions on advantages and disadvantages regarding some aspects of the policy were explored. The final speaker from the event was Mr. Jens Langendorff from Langendorff tax Consultancy who spoke briefly about International Taxation, more specifically on topics such as permanent establishment, 183 rule, material and formal employer, hiring out of personnel and cross border wage tax issues.
Furthermore, the networking cocktail event at the end offered and contributed to various possibilities for SANEC members to discuss business opportunities within a relaxed setting. We were very much grateful to have Mr. Erik Kleine Manager of VOPAK South Africa, based in Durban for addressing the participants on the importance of international companies abiding by the law and policy of BBBEE especially when doing business in South Africa, as well as highlighting some of the advantages and challenges of the policy for businesses looking to trade and do business in South Africa with private and public institutions. A special vote of thanks goes out to PwC, Langendorff Tax consultancy and Arch Legal Management B.V for their efforts and for giving an excellent coverage of international tax related topics for without them this event would not have been a great success.
Please click here for the pictures.