Launch of the SANEC Business Directory 2015 in the Netherlands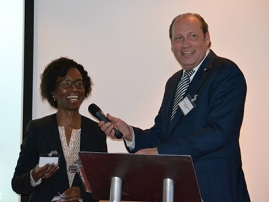 Date: 26-03-2015
Location: Zaandam / Netherlands
On the 26th of March SANEC launched the 19th edition of the SANEC Business Directory in the Netherlands at the Zaantheater in Zaandam, followed by the South African Road Trip show. During this event SANEC provided both culture and business a platform and in doing so intertwined them successfully. Resulting in a prosperous and accomplished event for all attendees.
SANEC wants to thank the Ancient Singers and The Khayelitsha United Mambazo Choir for their extraordinary performance which contributed to making the SANEC Business Directory launch of 2015 in the Netherlands an unforgettable evening. Furthermore we would like to thank everyone who joined us at this joyful launch.
Additionally we hope that the three lucky winners that received a South African bucket from Bangu Masisi, CEO South African Tourism, are enjoying their wine and other South African treasures.
We look forward to welcoming you again at our upcoming event!
Please click the link below to view the moments we captured.
Don't forget to like us on Facebook!