Lively Business Directory launch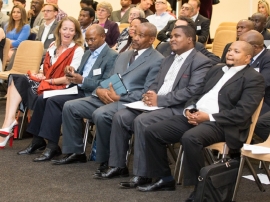 Date: 04-04-2013
Location: IDC's auditorium, Sandton / South Africa
The start of the event was very formal- at IDC's auditorium at their Sandton offices- but ended in SANEC's vibrant network style, with lots of Heineken green, building the scene.
Emphasizing the SADC region and its important role for Africa's and South Africa's economies by a diverse speakers field:
IDC Head Economist
Bonang Mohale, SANEC Chairman, Shell Africa Chairman, Country GM:Commercial
MEC of Gauteng Economic Development, Mr. Kosipendule Kolisile
Heineken Sedibeng Brewery CEO and supply chain manager, Henk van Klompenburg
The guests were offered a mixture of insight in local and international developments in the SADC region,strategy, political views and statements. In addition SANEC presented its plans and activities for the coming year.
This was followed by the revelation of the 2013 Business Directory by SANEC's chairman Bonang Mohale and Head of economic affairs of the Dutch Embassy Ms Sandra Pellegrom. Cherry on the cake were the 3 prices given to advertisers in this year's edition of the Business Directory:
1. Brandstation, 1 day emotive branding course won by MAP.
2. Marataba Safari Company, 2 nights for 2 people, won by Jurgens Bekker Attorney's.
3. Hero, ER Application development, won by Oxygen For Life
The networking amongst the 120 guests was accompanied by many cold Heineken beers and a beautiful dinner banquet.
A successful and elaborating event, a good start of the new financial year 2013-2014 and another moment to meet-greet and extend networks!