Malawi Business Forum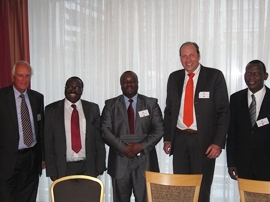 Date: 18-10-2012
Location: Brussels / Belgium
"It is time to grow". This is the slogan of the Malawian government that seeks to promote economic growth. To assist the African republic, SANEC facilitated the Malawi Business Forum in Brussels in cooperation with the Embassy of the Republic of Malawi and CBL-ACP on October 18 2012.
The Malawi Business Forum was hosted in honour of Her Excellency the President of the Republic of Malawi, Mrs. Joyce Banda. Her Excellency the President was accompanied by Honourable Chief Justice, Honourable Minister of Industry and Trade, Honourable Minister of Foreign Affairs and International Cooperation and the Honourable Deputy Minister of Finance.
Malawi is seeking to create a growing and expanding market by entering into bilateral trade agreements with various European countries. The country is promoting a private sector led economic growth through identification of key priority areas including agriculture, tourism, mining, energy and infrastructure development.
The Forum brought together a number of key European companies active in Africa that were interested in seriously considering partnering with Malawi and its strategy for growth. Keynote addresses were made by European companies active in Malawi or seeking to become active in Malawi, including Vitens Evides International and Studio Altieri Spa.