Malawi Trade Delegation visists the Netherlands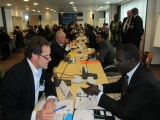 Date: 11-05-2012
Location: Malietoren, Den Haag / the Netherlands
An extensive trade mission delegation from Malawi visited the Netherlands between 10 - 11 May 2012. The delegation comprised of representatives of twenty companies and twelve supporting institutions under the leadership of the Malawi Ministry of Industry and Trade, Malawi Investment and Trade Centre and Malawi Confederation of Chambers of Commerce and Industry.
SANEC facilitated a two day programme for the Malawi trade visit with the purpose to link Malawian exporters to potential markets and investors in Europe. The delegation participated in a series of site visits to agro food companies as well as a matchmaking programme. The programme allowed for delegates to make new contacts with Dutch companies and informed them about financial and technical assistance opportunities available in the Netherlands.
SANEC worked in conjunction with the Embassy of the Republic of Malawi to realize this event. A number of follow up projects and ventures are being developed in follow up.