Members Cocktail at Concertgebouw Amsterdam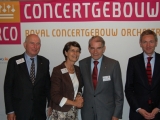 Date: 03-07-2012
Location: the Concertgebouw Amsterdam / the Netherlands
SANEC members and Ambassadors and board members of the Royal Concertgebouw Orchestra (RCO) gathered at the Concertgebouw in Amsterdam to discuss mutual business opportunities. Dutch Ambassador H.E. Mr. Andre Haspels, board member of RCO Yvonne van Rooy and CEO of RCO Jan Raes, all inspired the invitees with their thoughts on the upcoming anniversary of the orchestra.

The RCO will celebrate its 125th anniversary next year. In honour of this milestone, the orchestra is embarking on a World Tour in 2013, when they will visit South Africa for the first time. After the speeches of Dutch Ambassador H.E. Mr. Andre Haspels and Yvonne van Rooy, Jan Raes gave a presentation about the anniversary of the RCO and their World Tour.

All 60 participating SANEC members, Ambassadors of the RCO and Board members of the RCO gathered in a monumental lounge to interact. SANEC would like to thank the Royal Concertgebouw Orchestra and the Concertgebouw Amsterdam for their contribution to this inspiring networking event.

Picture, from left to right: Kees Bleckxstoon (Ambassador of RCO and co-foundation member of SANEC as president of Stork), Yvonne van Rooy (Board member of RCO, former Dutch Minister for Foreign Trade), Bas Kardol (Honorary Chairman of SANEC) and Jan Raes (CEO of RCO).