Minister Alan Winde at the Members Cocktail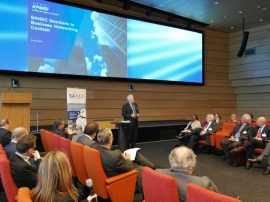 Date: 06-06-2013
Location: KPMG Headquarters, Amstelveen / The Netherlands
The second Members in Business Cocktail of 2013 was hosted at the modern headquarters of SANEC board member KPMG. Prominent guests at this cocktail was Minister Alan Winde, Minister Minister of Economic Development, Finance and Tourism of the Western Cape.
Minister Alan Winde made some fruitful connections with SANEC members, which resulted in SANEC members leaving the cocktail with the Minister's cell phone number and a promise that he will answer his phone 24/7 for (international) business purposes.
The Minister was on a visit to the Netherlands to recognize the Netherlands as an important partner of the Western Cape in terms of trade, investment and tourism. During his visit he met with key stakeholders in the following sectors: innovation&technology, the creative industry, cycling, tourism and trade&investment.
SANEC would like to thank Minister Alan Winde for his contribution and KPMG for hosting the Members in Business Cocktail at their fantastic headquarters.