Netherlands - Africa Business Meet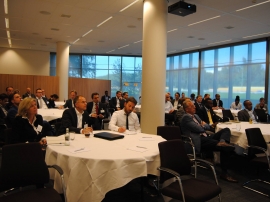 Date: 30-09-2015
Location: Amstelveen / the Netherlands
On the 30th of September 2015 SANEC, Fenedex and NABC organized an event at the KPMG office in Amstelveen, this was The "Netherlands-Africa Business Meet".
The theme of the event was for entrepreneurs and for business organizations to assimilate and master the manner through which other successful Dutch organization have " Sustained their growth in Africa" and how they have optimized their supply chain within countries that they operate in the continent. The afternoon saw our moderator Mr. Lanre Akinola, Former Editor and Founding Member of This Is Africa (TIA) offered everyone at the event, some thought revealing and insightful information on opportunities for businesses and potential investors in the African continent in the next coming years seminar.
This was followed by a brief presentation by our host KPMG, and the work that they have conducted in the African continent by Mr. Laurens Kreuze, and his partner from their office in South Africa, Johannesburg. After the enlightening speeches by KPMG, the guest were treated to another interesting AFRICAN SUCCESS story courtesy of Dutch Breweries, BAVARIA who are now operating a factory in Ethiopia, under the subsidiary name of Habesha Breweries. Mr. Han Van Veen, a Former CFO and Project manager at BAVARIA in Ethiopia spoke about the opportunities available in the Ethiopian market and the potential of its brand for the growing African middle class in the continent. He further urged companies to go into Africa, and Invest. He explained that it is vital for investors to concentrate on a market that they believe has potential and to have a long-term strategy and vision when eventually settling in, and be ready to deal with the challenges prevalent in doing business in Africa. Mr. Martin Dirks, employed at Helios Investment for many years also took to the podium and spoke about the opportunities he had to work in many countries in the African continent, such as The Democratic republic of Congo, and spoke of the great successes that were also accompanied by many challenges faced by his organization and how they formulated plans to deal with them, when they emerged. As the plenary session came to an end, we also organized workshops for our guest.
Please have a look at the presentations of B&S and KOTUG.
The event included three workshops and a networking session. All companies that are active in Africa were welcome to sign up for the Business Meet and engage in the workshops.
Please have a look at the workshops of this day.