Network cocktail and dinner by SANEC, FMO and IDC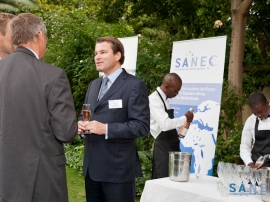 Date: 21-11-2012
Location: Johannesburg / South Africa
After a rainy day in Johannesburg in November, the sky cleared just before the first guest arrived at the cocktail and dinner at the stunning venue Fairlawns Boutique Hotel and Spa. All SANEC, FMO and IDC guests enjoyed welcome drinks in the beautiful garden of Fairlawns, which was followed by a dinner in the De Bers room.
The evening was opened by Ambassador André Haspels. During the dinner there were opportunties to network and in between the courses two presentations were given. One by Jorge Maia, head of research and information at IDC and one by Jurgen Rigterink, Chief Investment Officer of the Dutch Development Bank.
SANEC, FMO and IDC are all looking back at a successful, high-level event.