Minister Ploumen at New Year's Drink at Heineken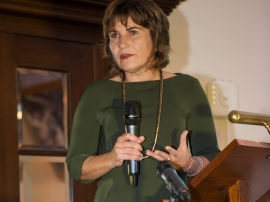 Date: 17-01-2013
Location: Amsterdam / the Netherlands
The New Year's Drink – a collaboration between SANEC & NABC was hosted by Heineken International in Amsterdam; the perfect venue to start the year 2013 with a business boost.
SANEC and NABC members were welcomed with a delicious glass of beer and some tasty snacks.
During this first meeting of 2013, invitees could meet each other again, review 2012 and look forward to all ambitious plans for the coming year.
Siep Hiemstra, the President Africa & Middle East at Heineken International, welcomed all attendees in his 'home', the world famous brewery. This was followed by a small speech by Frans Engering, chairman of SANEC, and Kees van Heijst, chairman of NABC. Together with Mark Agterdenbosch, General Manager of SANEC, and Bob van der Bijl, Managing Director of NABC, they toasted to 2013.
This was followed by the highly interesting part of the evening; the speech of Mrs. Lilianne Ploumen, Minister of Foreign Trade and Development Cooperation. She gave a speech about the interesting developments and possibilities for European businesses in Africa.
Before attendees moved towards the bar and enjoyed a fresh beer, Berenschot launched its book 'Doing Business in Africa' – a strategic guide for entrepreneurs. The authors state that it is necessary to adopt more investment-focused, pro-active and inclusive strategies to seize the opportunities and strengthen the Dutch competitiveness in Africa.
SANEC and NABC would like to sincerely thank Heineken International for its hospitality and contribution to this inspiring networking event.