New Years Drink & Introduction Trade Missions to South Africa 2012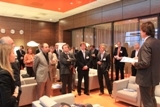 Date: 27-01-2012
Location: Holland Gateway, WTC Schiphol, Amsterdam / the Netherlands
In cooperation with Agency NL, SANEC facilitated an information session about various sectors for which SANEC and its partners will organize trade missions in 2012 from the Netherlands to South Africa, in order to match Dutch and South African business opportunities. Interesting speakers gave information about the sector and trade missions of their expertise to create enthusiasm among the attendants.

After these presentations, Dutch Consul General in Cape Town David de Waal had the honor to launch the new SANEC website.
Thijs Woudstra, MT member of the Board International Entrepreneurship of the Ministry of Economic Affairs, Agriculture and Innovation, gave a presentation about the Transition Facility. The event ended with a New Years Drink, during which many attendants took the opportunity to network and gather information about the trade mission of their interest and to meet their fellow SANEC stakeholders.