Port & Industrial Zone Development expertise exchanged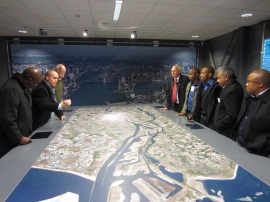 Date: 27-11-2012
Location: Amsterdam and Rotterdam / the Netherlands
South African and Dutch Port & Corridor specialists exchanged expertise in the Rotterdam and Amsterdam area to further develop sustainable relations in this fast developing and ever-innovative sector.
Between 27 and 30 November 2012 SANEC welcomed several public and private South African stakeholders to the Netherlands. Amongst other parties, the South African Department of Trade and Industry (DTI) and the transport and ports giant Transnet were present to share knowledge, information and networks with their Dutch counterparts in the field of Port & Corridor Development.
Site visits to the Port of Amsterdam, to Seacon Logistics, to Damen Shipyards, to the Port of Rotterdam and to the Schiphol Area Development Company (SADC) gave useful insights in best practices in the Netherlands. Also the concept of Industrial Zones Development was discussed intensively at various occasions.
On Thursday 29 November at Grand Hotel Huis ter Duin the delegation enjoyed an intensive matchmaking programme with their Dutch counterparts in the morning and an interactive seminar in the afternoon during which the South African parties could present their business case. The evening was concluded with the spectacular SANEC Trade & Investment Gala Dinner.