Roundtable discussions at Leiden municipality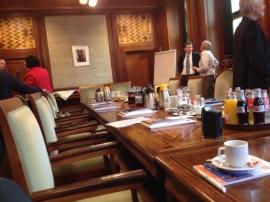 Date: 08-05-2014
Location: Leiden / the Netherlands
Roundtable discussions at Leiden Municipality hall
Yesterday afternoon, Leiden Municipality Hall formed the stage for the second SANEC East London Roundtable of this year.
Leiden Municipality hosted this event to boost their twinning relationship with Buffalo City (East London). A party of 20 representatives from Dutch business and institutions discussed Agro-Processing and Renewable Energy sectors in South Africa and in particular East London (Eastern Cape). The attendees represented various public and private organizations and educational institutions.
In the second half of the Roundtable, a LIVE video conference was established with Mr Mzokhona Mvemve, Sector Manager Agro Processing at ELIDZ. SANEC colleagues Mark Reyneker, Matthijs Versteeg and Violet Nijboer presented what the East London Industrial Development Zone has to offer. Afterwards, a networking reception took place in which cross-sectorial linkages were made, from which the ELIDZ will benefit the most: an integrated, comprehensive and encompassing approach. Moreover, combining efforts from the perspective of Dutch organizations will enable them to become a durable stakeholder in the East London Industrial Development Zone.
For the pictures taken during this event, please visit our Facebook page and don't forget to 'like'.
Subscribe to our newsletter to stay up-to-date about our latest news and upcoming events!