Roundtable Zimbabwe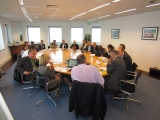 Date: 14-09-2012
Location: Amsterdam / the Netherlands
In cooperation with Deloitte, SANEC hosted a Roundtable for businesses and potential investors who are interested in receiving fundamental information on doing business in Zimbabwe.
Guest speakers, including Charles Taffs from the Commercial Farmers Union in Zimbabwe, and Titus Gwemende from the Dutch Embassy in Harare, highlighted that there have been positive economic developments in Zimbabwe since 2009.
SANEC will facilitate a Netherlands Orientation Business Mission to Zimbabwe from 5 – 8 November 2012.

For more information please contact Caroline de Bruin:
via e-mail: [email protected]
by phone: +31 (0) 70 347 07 81