SADC Ambassadors Luncheon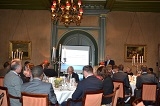 Date: 20-05-2016
Location: Wassenaar / The Netherlands
We would firstly like to thank all the attendees for joining this years 7th Annual SADC Ambassadors luncheon. The venue, esteemed speakers and diverse guests contributed to making it an exceptional afternoon.
Our keynote speaker for this year, was the Chair of SADC Ambassadors and an Ambassador himself, H.E Mr Samuel Outlule, who elaborated on the need for human capital development, localized partnerships and renewable energy & energy efficiency within Southern Africa, under the them of the day, " The Importance of Knowledge Exchange and Capacity Building".
For this year, we presented two dignified women in International business, that dealt with the subject pertaining to the theme for the afternoon. Ms. Zelda Schrama, owner of her own consulting firm based in Brussels named Connect Africa, a strategist, entrepreneur and international speaker on innovations and innovating thinking was invited as a guest moderator along with SANEC's general manager for this momentous and informative afternoon.
Mrs. Elske van der Wal, an Internationalization coordinator at the Breda University of Applied Sciences (NHTV), had the opportunity to do a presentation for participants and Ambassadors, she had just returned from a successful project execution in Southern Africa and further wanted to present on improving knowledge exchange by addressing the training and education gap within the region.
SANEC was pleased to welcome SADC Ambassadors and economic attachés, and would like to thank and welcome the new Ambassadors accredited to the Benelux region from the DR Congo, Mauritius and Malawi, as well as Mrs Mette Gonggrijp the new Director of The Sub-Saharan African Department and her staff from the Dutch Ministry of Foreign Affairs for there very first attendance at this years event.
We thank our board members who took part in the launch of the "SANEC Pearl Card" and our distinguished guests for your participation, and look forward to welcoming you next year for another glorious occasion to meet the SADC Ambassadors, explore themes relevant in doing business in Southern Africa, connect with other members, network and build on partnerships.
Click here for the pictures.