SANEC and ISAH Business Breakfast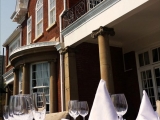 Date: 08-06-2012
Location: Emoyeni in Park Town, Johannesburg / South Africa
ISAH and SANEC invited their mutual network to discuss the potential of the manufacturing industry in South Africa. On 8 June 2012, a large group of the manufacturing industry gathered at 7:30 hrs. at Emoyeni in Parktown, to kick start their day with a business breakfast.

After a word of welcome by the Chairman of the SANEC board, Herschel Maasdorp, Mr Peter van Harten (ISAH Executive Vice President) gave a speech about the importance to attract young and skilled people for the success of the manufacturing sector. He pointed out that South African manufacturing companies need to establish a clear innovative business strategy in order not remain a sustainable competitive advantage. Honorable MEC Ms Qedani Dorothy Mahlangu spoke about her Budget vote speech on Gauteng provincial legislature. Furthermore, Ms Tsepiso Makgothi informed guests about the Manufacturing Competitiveness Enhancement Program (MCEP), new production incentive grants and industrial financing loan facilities. Lastly, Mr. Ian Huntly, the CEO of Rifle-Shot, gave an interesting speech about the potential to cooperate with ISAH and Rifle Shot.

After the speeches, the new "hop on, hop off" sightseeing bus took the guest on a tour through Johannesburg CBD and brought all guests to the amazing lunch venue: the Rand club. The Cradle of Human Kind gave an inspiring performance during lunch. This business breakfast and lunch was a great kick start of the day!