SANEC Business Directory Launch 11 may 2015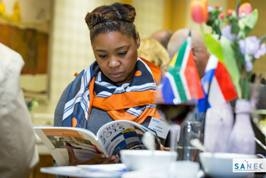 Date: 11-05-2015
Location: Johannesburg / South Africa
SANEC is delighted to have had a successful launch of its 19th edition Business Directory in Johannesburg on the 11th of May 2015.
A special thank you goes out to our host, Nedbank, for welcoming us into their offices and celebrating this milestone with us.

We had the honor of having J.P Landman, Political and Economic Analyst, as a keynote speaker at the event, who gave us an update on economic trends in South Africa, which touched on tax matters and investment guidelines organisations may want to undertake. Mr Landman's speech was described as critical, yet relevant and "something all South Africans needed to hear".

Guests at the event included H.E Ms Marisa Gerards from the Embassy of the Kingdom of the Netherlands and Mr Roland Botes representing Nedbank. We were also joined bybusiness mogul, Mr Ndaba Ntsele and other SANEC Members and Associates who enjoyed refreshments and networking with each other after the reveal of the business directory.

The Business Directory reflects what SANEC stands for and showcases trade and investment experiences of members while penetrating international markets and doing business in the SADC and BENELUX. This year's theme is Empowering Partnerships, which underlines SANEC's efforts of building long lasting and sustainable ties between the BENELUX and SADC in order to promote, develop and facilitate business between companies, entrepreneurs, government institutions and organisations.

You can find the photos of the event on the SANEC Facebook.